Freelancing and Consulting as a Side Hustle is the ultimate launch guide for anyone who's ever considered selling professional services.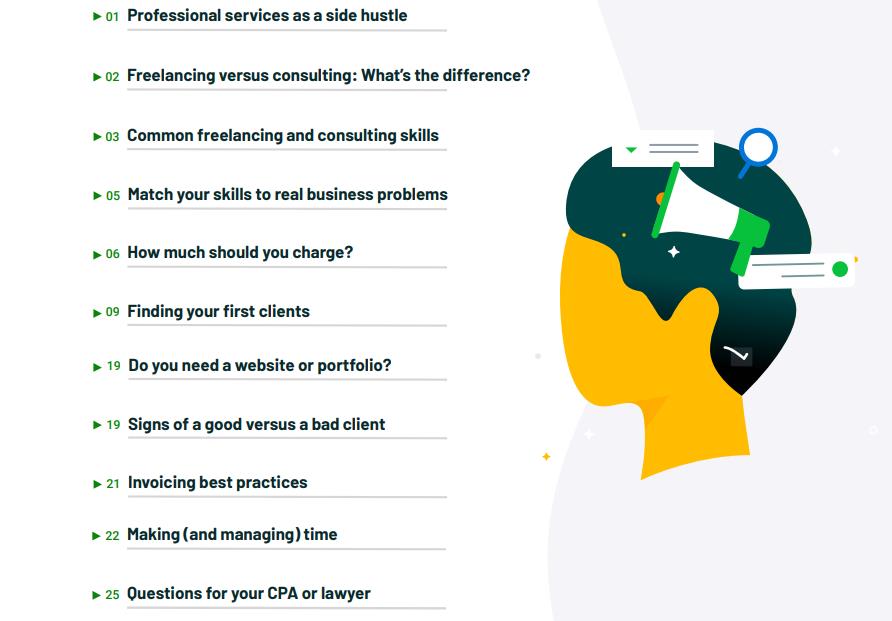 Professional services are the lifehack you're looking for to bolster your income (and shoestring budget).
Freelancing and consulting offer low overhead, flexible work schedules, and no employee drama—if you're doing them right.
This ebook will break down the big issues for people just starting out, like how much to charge, when to pay taxes, and if you should incorporate.
You'll be free from the guesswork and early stumbling blocks of going solo, so you can launch with confidence.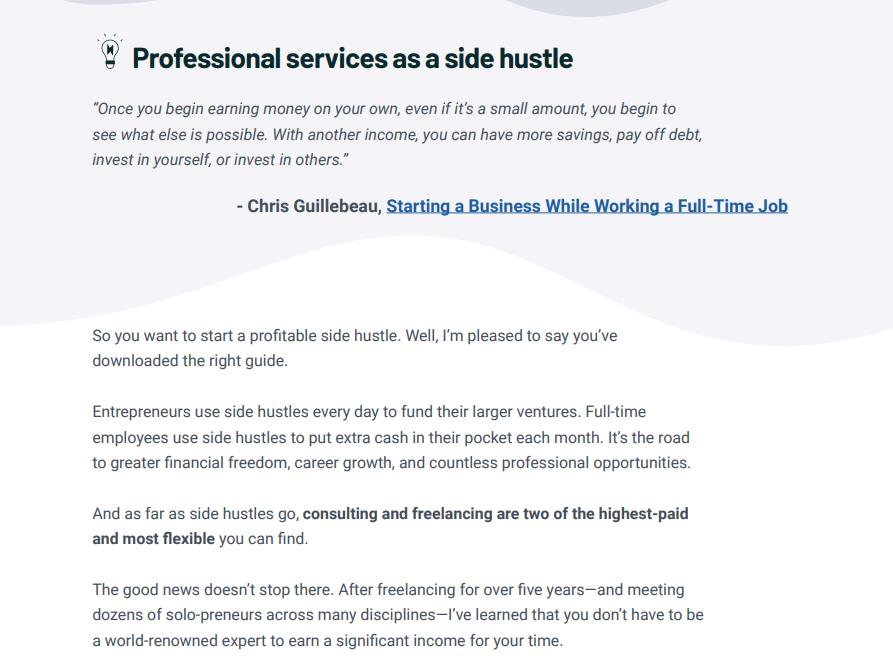 There's more than one way to price your services.
This guide shows you the four most common ways to charge: hourly pricing, retainer, fixed fee, and the all-powerful value-based fee.
It also covers several pricing pointers, like what it means to factor "risk" into your pricing, to make sure you don't under-charge for the services you're offering (because you're worth it).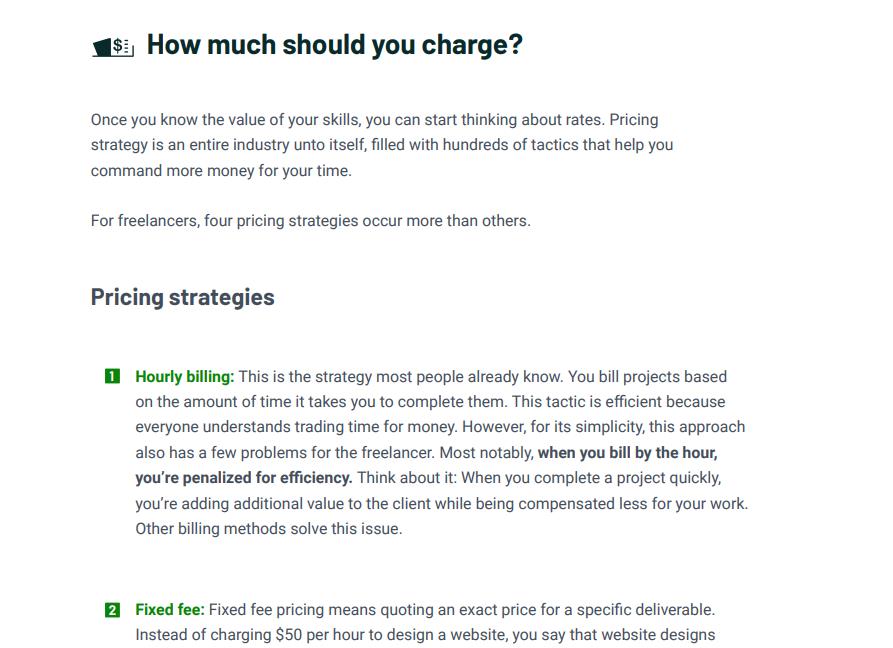 One of the hardest parts of running a solo business is finding customers. That's why Freelancing and Consulting as a Side Hustle offers nine ways to snag your first clients.
Dive into multiple tactics for using social media to connect with clients, or try different partnerships with other freelancers and agencies to launch a powerful referral network.
You'll also get networking pointers to help you get the most out of digital and in-person events (#nostalgia).
And there are even more tips to get you raking in new clients with ease.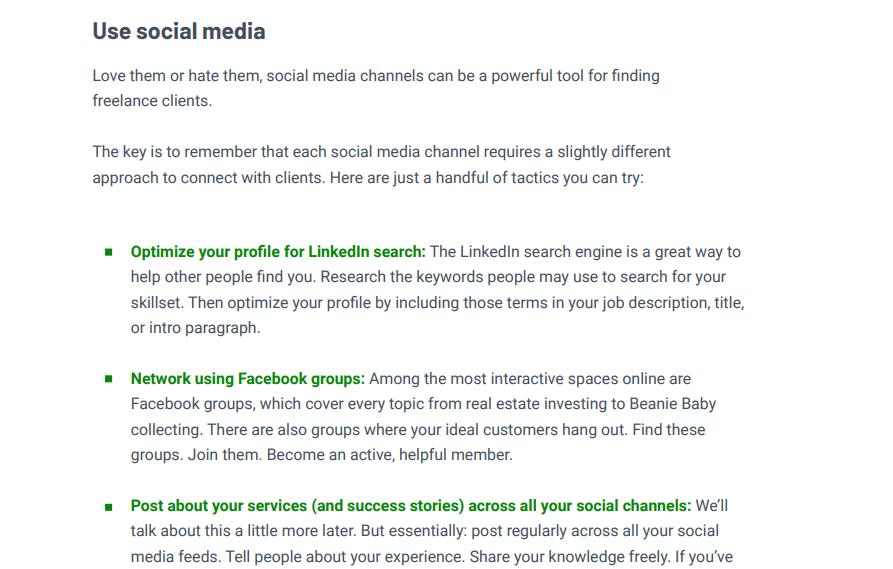 This ebook features takeaways based on in-depth advice with heavy hitters in the freelancing/consulting space.
You'll access tips from Michael Zipursky, the CEO of Consulting Success, that cover how to avoid the most common consulting mistakes.
Learn from Rafael Espinal, Executive Director of Freelancers Union, who's added his expertise on contracts and the importance of defining scope.
We even included all the ideas and tactics we've learned over the years at AppSumo by helping and working with thousands (yes, thousands) of freelancers.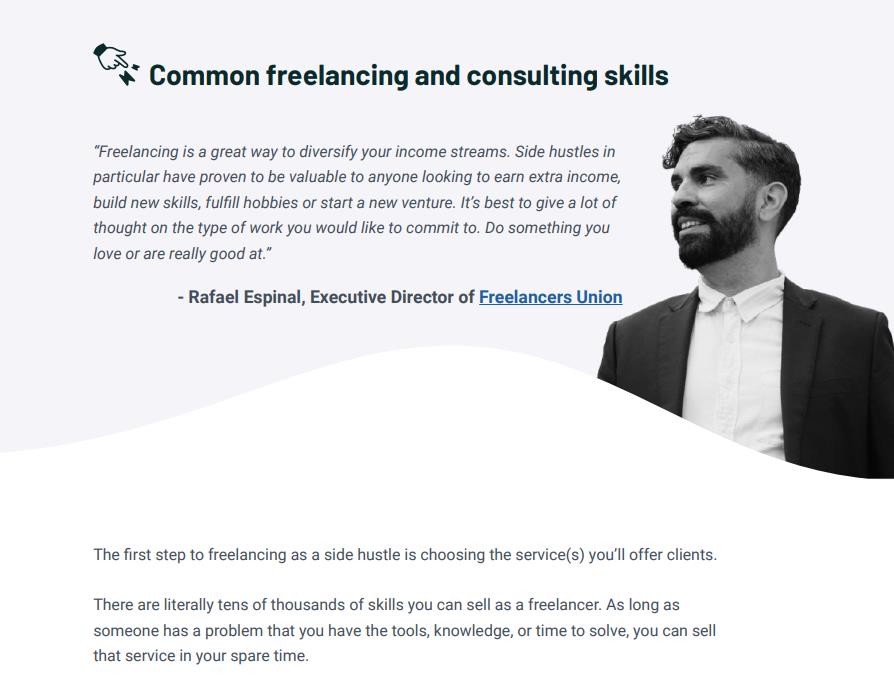 Starting something new is always daunting—if you have a bad first experience, you're not inclined to try again. (See also: why I don't night snorkel.)
Whether you're just getting started in freelancing and consulting—or you're preparing to launch—this guide will answer the most common questions and start you on the right foot.
Make sure you don't put the "free" in "freelancing."
Get access to Freelancing and Consulting as a Side Hustle today!