Image+ is a WordPress plugin that can enhance, optimize, and split test original pictures or AI-generated images to boost conversions.
The Image+ WordPress plugin allows you to create AI-optimized images for your website, so you can boost clicks, leads, and sales.
Getting started is super easy—you can upload your photos or create brand new ones with the built-in AI image generator.
From there, you'll get AI-powered enhancement suggestions like panning, zooming, text overlays, backdrops, and more eye-catching effects.
Image+ works for everything! Use it to improve product images, showcase features, optimize real estate listings, level up course content, and much more!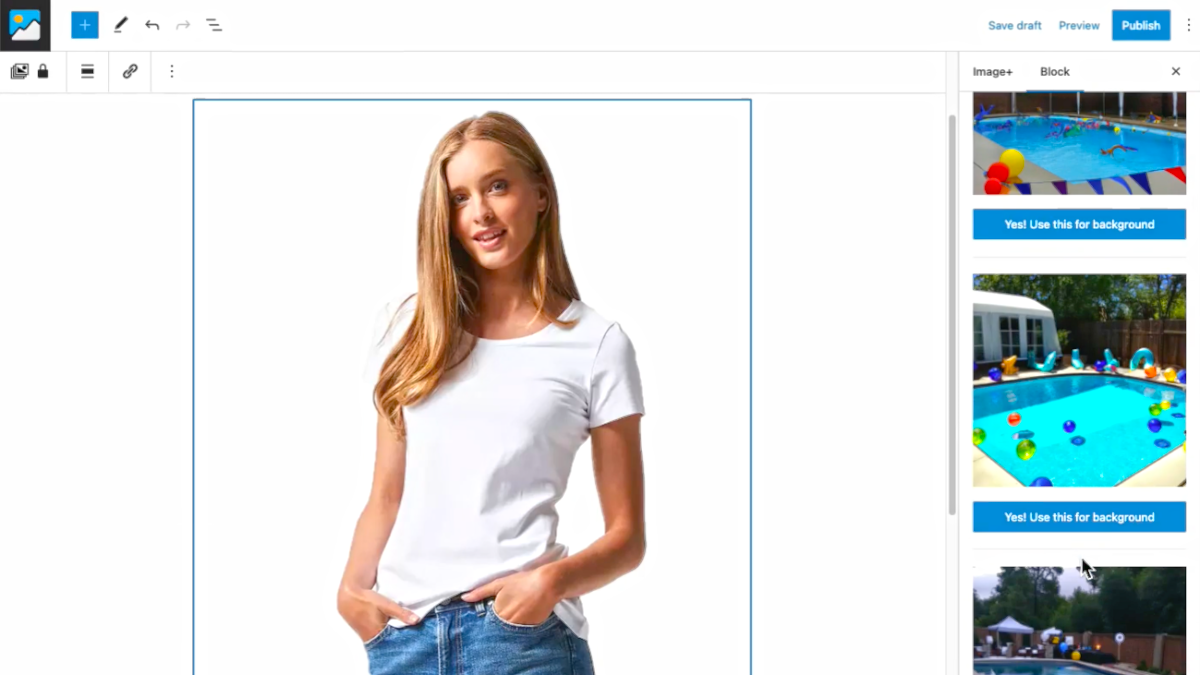 Improve images with AI suggestions, like captioning, text overlays, animations, and more!
Whenever you need to refresh your website images, Image+ lets you split test alternative versions of successful pics.
This AI will learn which version of an image drives people to take the desired action so it can suggest similar images for split testing.
You'll be able to compare metrics between source images and AI images. That way, you know what resonates with your users.
And for each image, you'll get real-time conversion data, like views, leads, clicks, and sales, to discover richer audience insights.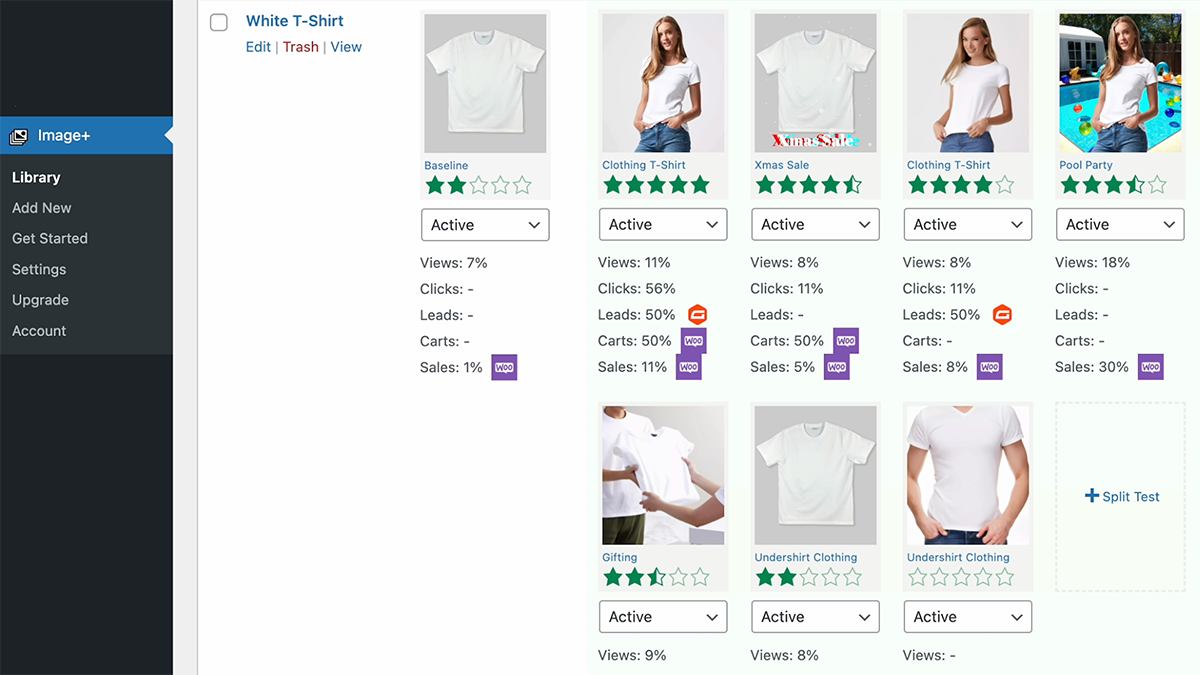 Access conversion data for each image, including views, leads, clicks, and sales.
Because it's a cinch to remove and replace image backgrounds, your media library is gonna be chock full of options!
Image+ also offers delivery optimization, like globally accelerated CDN delivery and image compression, which can boost SEO rankings.
This plugin supports third-party integrations with WordPress, WPForms, Gravity Forms, WooCommerce, Shopify, BigCommerce, HubSpot, and more!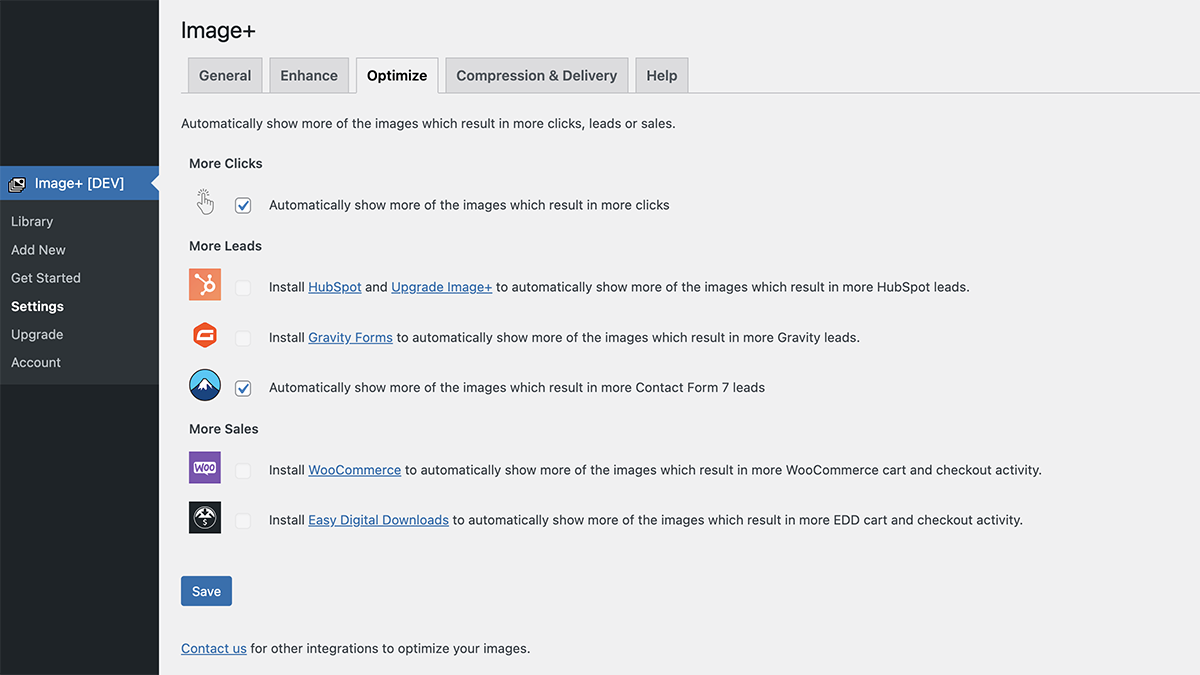 Image+ integrates with WordPress, WooCommerce, Shopify, BigCommerce, and more!
Image+ also makes it easy to add custom calls to action, so you can focus on driving those conversions through the roof.
It's also compatible with plugins that compress and re-format images, including Akamai, Smush, Imagify, EWWW, ShortPixel, and Optimole.
Best of all, this platform offers agency plans that include white-labeling of up to 50 sites, unlimited users, and 600+ AI-generated images per month.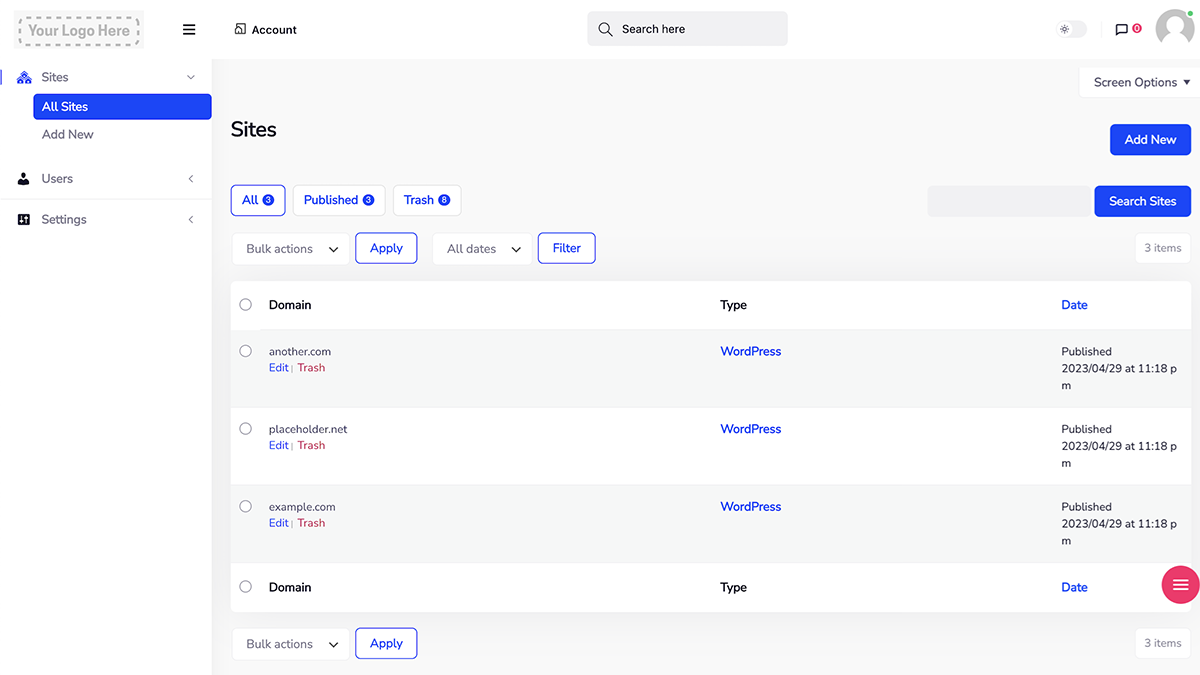 Agencies can offer new services to clients with the Image+ white-label solution.
Without quality images, your good 'ol website looks super outdated. ("To quote the Black Eyed Peas, 'You so 2000 and late.'")
Lucky for you, Image+ takes the stress out of optimizing, enhancing, and split testing original images and AI-generated ones.