Your customer support tickets are literally piling up faster than you can open them. ("If only I had a clone… and my clone had a clone.")
Helping customers with their issues can be frustrating when you're fielding the same questions every day, instead of tackling more serious concerns.
You need a tool that automates your online customer service across popular channels, letting your live agents resolve bigger tickets.
Support Board automates your customer support with AI-powered chatbots and a chat system optimized for conversational marketing.
Build and launch conversational chatbots across channels like WhatsApp, SMS, and email
Convert more customers with live chat, pop-up messages, and automations
At-a-glance
Best for
Ecommerce
Small businesses
Alternative to
Integrations
LiveChat
OpenAI
Slack
Telegram
Whatsapp
Features
GDPR-compliant
AI
White label
Overview
Support Board helps your live agents manage customer support interactions with OpenAI and Google AI.
Support Board connects customers with smart chatbots for immediate assistance—and hands control over to live agents when problems escalate.
You have the capability to automatically train your chatbot using your own documents or website. You're also able to program new questions and answers to train your chatbot, allowing it to help customers with more advanced queries.
And just like a live agent, your chatbot can send attachments, media, rich messages, and surveys to deliver more information to customers.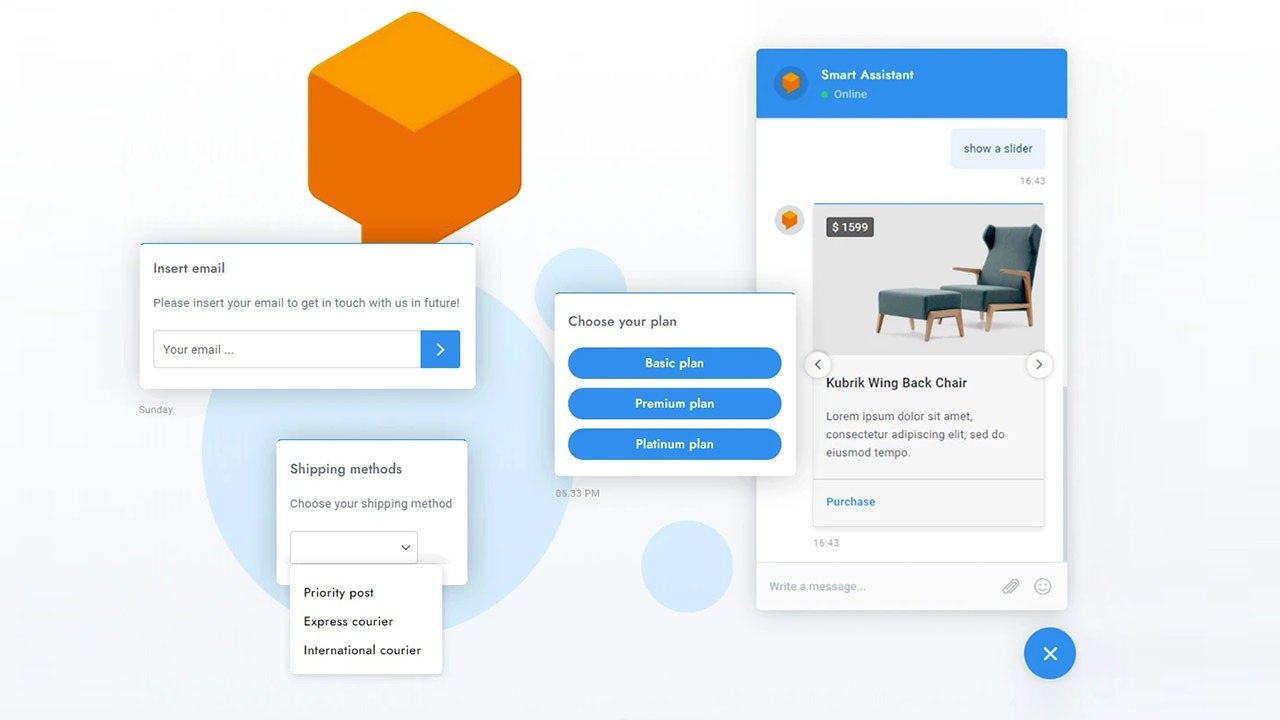 Train your chatbot to help customers with more advanced requests.
Send pop-up messages, welcome messages, and follow-up messages to push more people down the sales funnel.
You'll be able to set up automations and triggers using conditions like user type, location, and time, putting your bot to work 24/7.
Live agents can access rich messages to create more engaging surveys that onboard new customers in no time.
Plus, you can evaluate support scripts and team performance using reports that collect customer feedback after a live chat experience.
The agent rating feature lets you track the performance of your customer support agents.
Support Board lets you set up omnichannel support to send and reply to direct messages, text messages, emails, and support tickets.
The tool can also reply to messages sent from WhatsApp, Messenger, Telegram, Twitter, WeChat, Google Business Messages, and more for added flexibility.
It's easy to assist international customers because the platform has multilingual bots that support up to 32 languages.
Your chatbot can even search for answers on Google and autocorrect misspelled text to decrease your agents' workload.
Communicate with customers via Messenger, WhatsApp, Telegram, LINE, Viber, Twitter, Slack, WeChat, SMS, email and more.
Providing excellent customer service shouldn't leave you feeling burnt out. ("But who gives support to Support?")
With Support Board, you can manage customer conversations across channels and leverage automated chatbots for a seamless customer service experience.
Solve more problems in less time.
Get lifetime access to Support Board today!
The OpenAI and ChatGPT training interface. You will train your chatbot here.
Create Chatbots using Your Data with OpenAI. Get a ChatGPT-inspired chatbot for your data! Simply upload your documents or provide a link to your website and watch the magic happen. Enhance its strength by pairing it with Dialogflow and Google AI. Get a sneak peek with our thrilling preview video.
Plans & features
Deal terms & conditions
Lifetime access to Support Board
You must redeem your code(s) within 60 days of purchase
All future plan updates